Poster Presentations
Call for Proposals
IPA Fall 2020 Virtual Conference
Poster Session & Competition

Indiana Psychological Association (IPA) invites psychology students at all levels of training to submit their research for the Student Digital Poster Session and Abstract Competition to be held during the virtual IPA Fall Conference & Annual Meeting on November 19 & 20, 2020. Any currently enrolled undergraduate or graduate student, or doctoral intern may compete in the abstract competition. Submissions may describe empirical research or integrated literature reviews on a topic from any area in psychology. Because the conference will be virtual, students will submit a digital poster and a 3-5 minute video presentation of their work (please see the attached document which walks student poster presenters through 3 potential platforms for video recording), and they will be expected to be available virtually for interacting during the poster session.

The top three abstract submissions will be recognized during the conference and the submitting students for these will receive a monetary award, with awards ranging from $50 to $100. If a student is first author on more than one submission, that author may win only one position among the top three abstracts selected. Also, there will be a separate award for the abstract determined to make the strongest contribution to the diversity literature. A single abstract may be recognized among the top three AND win the Diversity award. In accordance with IPA policy, diversity research is defined as any project investigating groups who have historically been marginalized (e.g., racial/ethnic minorities, sexual minorities, religious minorities, individuals with disabilities, etc.) or studies that focus on the concept of diversity itself (e.g., in the context of development, clinical work, training, supervision, etc.) or involving gender-based research. The full IPA statement on diversity can be found here: https://www.indianapsychology.org/diversity_mission.php.

All awards are based on the content and quality of the abstract. Requirements for abstract submissions are stated below. In order to receive the award, winners must be registered for the conference and actively participate in the various poster related activities. Posters can be accepted for participation in the virtual conference if data analysis is not complete by the submission deadline below; however, the abstracts for such posters are not eligible for the abstract competition.

Students may submit work that has been presented elsewhere within the 12 months since last year's IPA Fall Conference date (that is, since November 20th, 2019). If students plan to list this as a separate item on a vita, then they should modify the work to emphasize a different aspect of the project than the original presentation. Consistent with the APA Ethics Code, students must be primary contributors to and hold substantive responsibility for the data, concepts, and interpretation of results for work they submit.

Students must register for and attend the virtual conference in order to participate in the digital poster session and abstract competition. However, IPA is proud to announce that for the first time students can attend the conference FOR FREE! While students do not have to be an IPA member to participate in the poster session and competition, membership is strongly encouraged. Under the new Academic Membership option, students may now join IPA as affiliate members at NO CHARGE (typically $40/yr) if a faculty member from their institution is an IPA member and advises IPA that he/she/they are sponsoring the student. If no faculty member in a student's school holds an institutional membership, students should try to identify a potential academic sponsor. If a student is unable to identify an academic sponsor, the IPA administrative team is committed to finding an academic sponsor. For assistance regarding membership options, please contact the executive director Dick Rhoad (execdirector@indianapsychology.org). The conference agenda will be relevant to all psychology students.


KEY DATES
Abstract submissions should be submitted online by 11:59 pm, Oct. 11, 2020 at
https://docs.google.com/forms/d/e/1FAIpQLSdHQFCFxDLdgxUaJ1FrQBHDypDlH0I4SpqBGn-TKU4HJlO5_A/viewform?usp=sf_link
A maximum of two submissions per student will be accepted. Accepted submittors will be notified shortly after submission via e-mail. E-mail will provide instructions for submitting virtual poster and video.

Virtual posters and 3-5 minute video should be e-mailed to Connie Vore by 11:59 pm, Nov. 1, 2020 at admin@indianapsychology.org.


REQUIREMENTS FOR ABSTRACTS
Identifying data:

Authors
First name, middle initial, and last name of lead author and all co-authors. If there are more than three authors or if the submitting student is not first author, provide a brief statement describing the submitting student's specific contributions to the content, data, and interpretation of this study.

Institution
Name of the lead student author's primary academic affiliation and the academic or institutional affiliation of each co-author.

Year in Program
Student author's year in her/his/their program including level of program (undergraduate, master's, doctoral).

Contact Information
Student author's mailing address, telephone number, and email address.

Title of Abstract

Abstract Content
The body of the abstract must list the title at the top of the first page and contain the sections defined below. The maximum length of the abstract text is 500 words not including citations. We encourage submission of abstracts that fully address the items contained in the guidelines below. An abstract that is substantially shorter than 500 words will be less likely to address the required items. The abstract may also contain no more than one table, figure, or graph, which must be emailed separately per instructions on the submission form. Abstracts longer than the maximum word count will not be reviewed.

Required sections for each of the two types of submissions follows:
Empirical Submissions
Introduction: Describe the context or problem being addressed, including ties to relevant theory and/or research and the project objectives and associated hypotheses
Method: Describe participants/subjects, measures (including apparatus and materials), design, and procedures
Results: Summarize pertinent results related to project goal/hypotheses
Discussion: State conclusions and your recommendations or implications for future research and applied psychology

Integrated Literature Review Submissions
Introduction: Describe the context or problem being addressed, including ties to relevant theory and/or research and the expected contribution of the project
Method: Describe search procedure, inclusion/exclusion criteria, and analytic method for reviewing articles
Summary of Literature: Summarize pertinent literature including meaningful comparisons across the selected literature
Discussion: State conclusions and your recommendations or implications for future research and applied psychology

FOR FURTHER INFORMATION
Contact Elizabeth Akey, PhD, Poster Session Co-Chair: eakey@purdue.edu
---

IPA Fall 2019 Poster Session & Competition
The 2019 Abstract and Poster Competition included 24 extensive and well presented submissions. Winners were announced at the 2019 IPA Fall Conference on Friday, November 8th, 2019. We have compiled all abstracts submitted so everyone can see the hard work extended by the student participants.
Abstract and Poster Winners at 2019 Fall Conference

Award winners received cash awards compliments of the Indiana Psychological Foundation.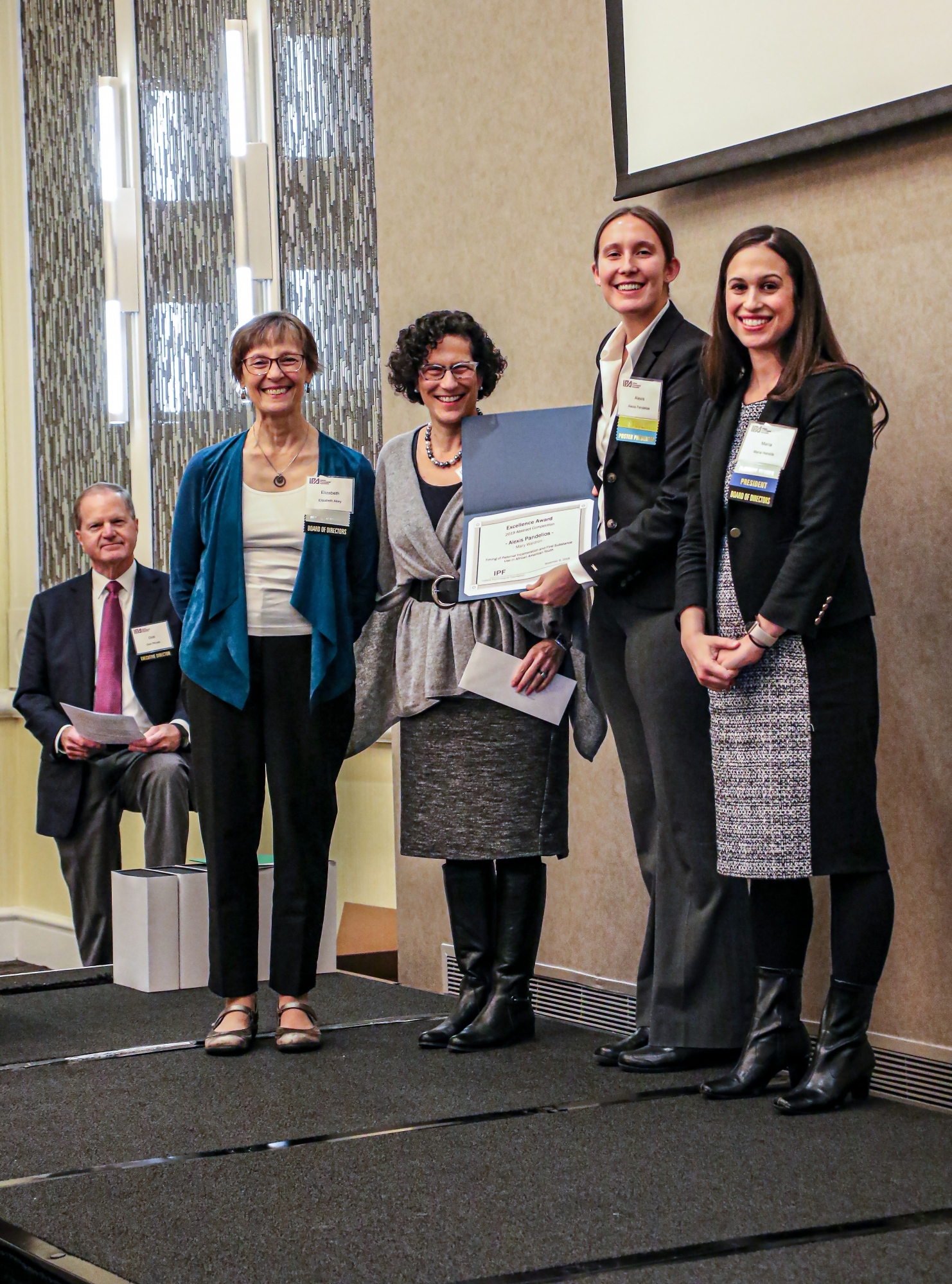 1st Place: Alexis Pandelios, Indiana University – Bloomington. Timing of paternal incarceration and first substance use in African American youth, by Alexis Pandelios and Mary Waldron

Pictured: Executive Director Dick Rhoad, Science & Education Committee Chair Dr. Elizabeth Akey, Science & Education Committee Member Dr. Lynn Gilman, 1st Place Winner Alexis Pandelios, and IPA President Maria Hanzlik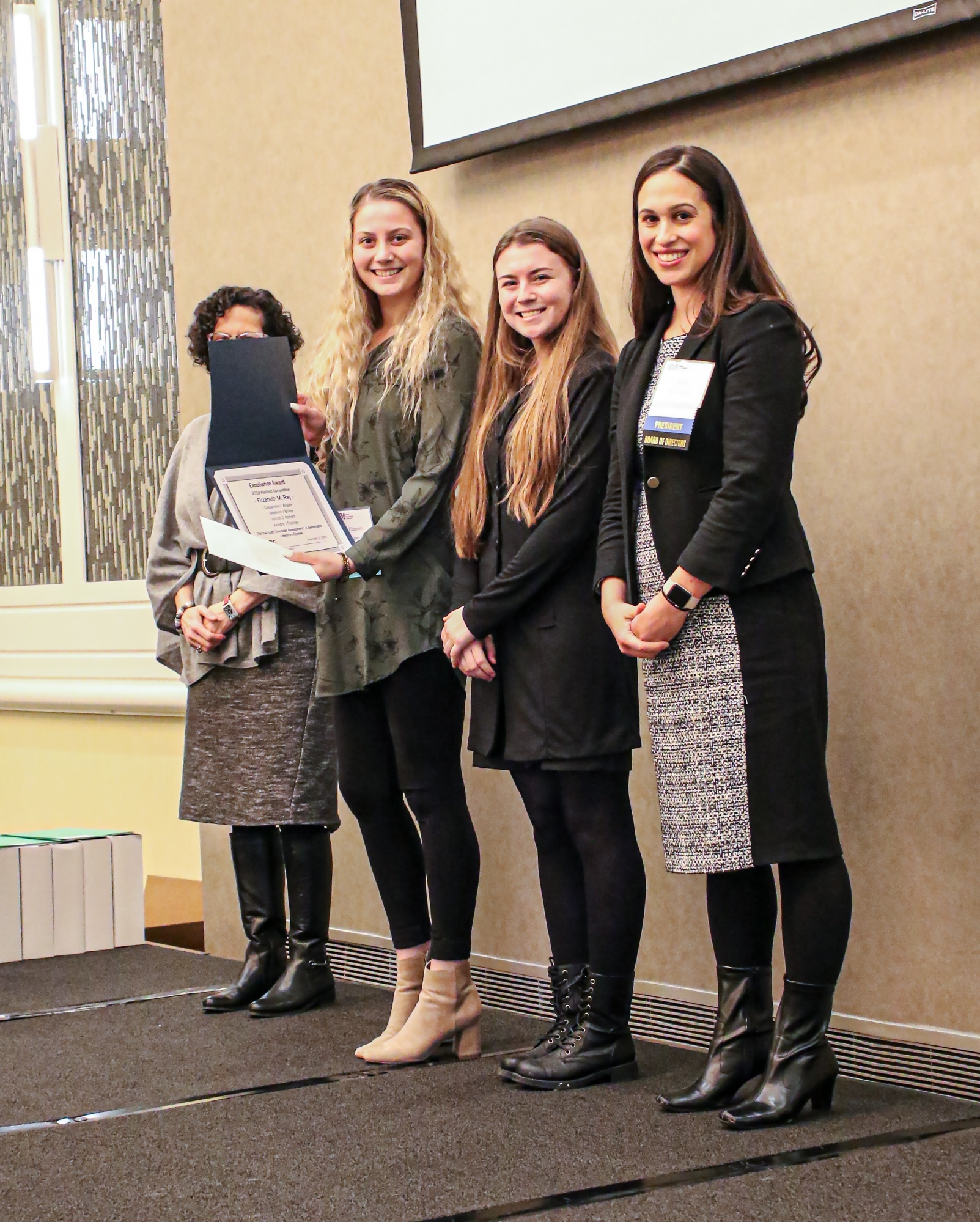 2nd Place: Elizabeth M. Ray, University of Indianapolis. The VIA-Youth Character Assessment: A Systematic Literature Review, by Elizabeth M. Ray, Cassandra L Zeigler, Madison J Brixey, Jazmin D Atzhorn, and Kendra J Thomas

Pictured: Science & Education Committee Member Dr. Lynn Gilman, Elizabeth Ray, and IPA President Maria Hanzlik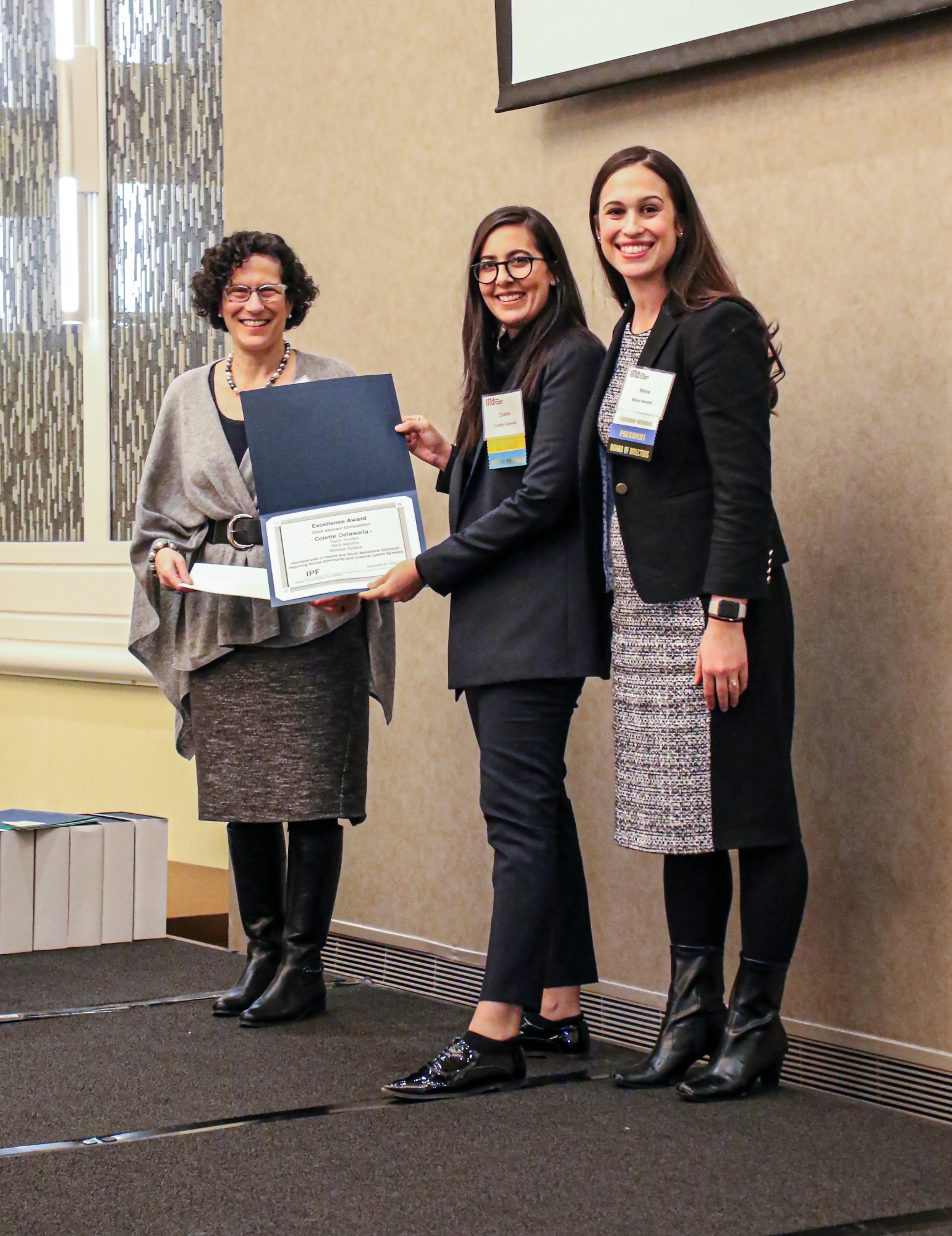 3rd Place: Colette Delawalla, Indiana University-Purdue University-Indianapolis. Discrepancies in Parent and Youth Behavioral Symptom Reporting Across Community and Juvenile Justice Samples, by Colette Delawalla, Taylor Hunton, Matt Aalsma, and Melissa Cyders

Pictured: Science & Education Committee Member Dr. Lynn Gilman, Colette Dalawalla, and IPA President Maria Hanzlik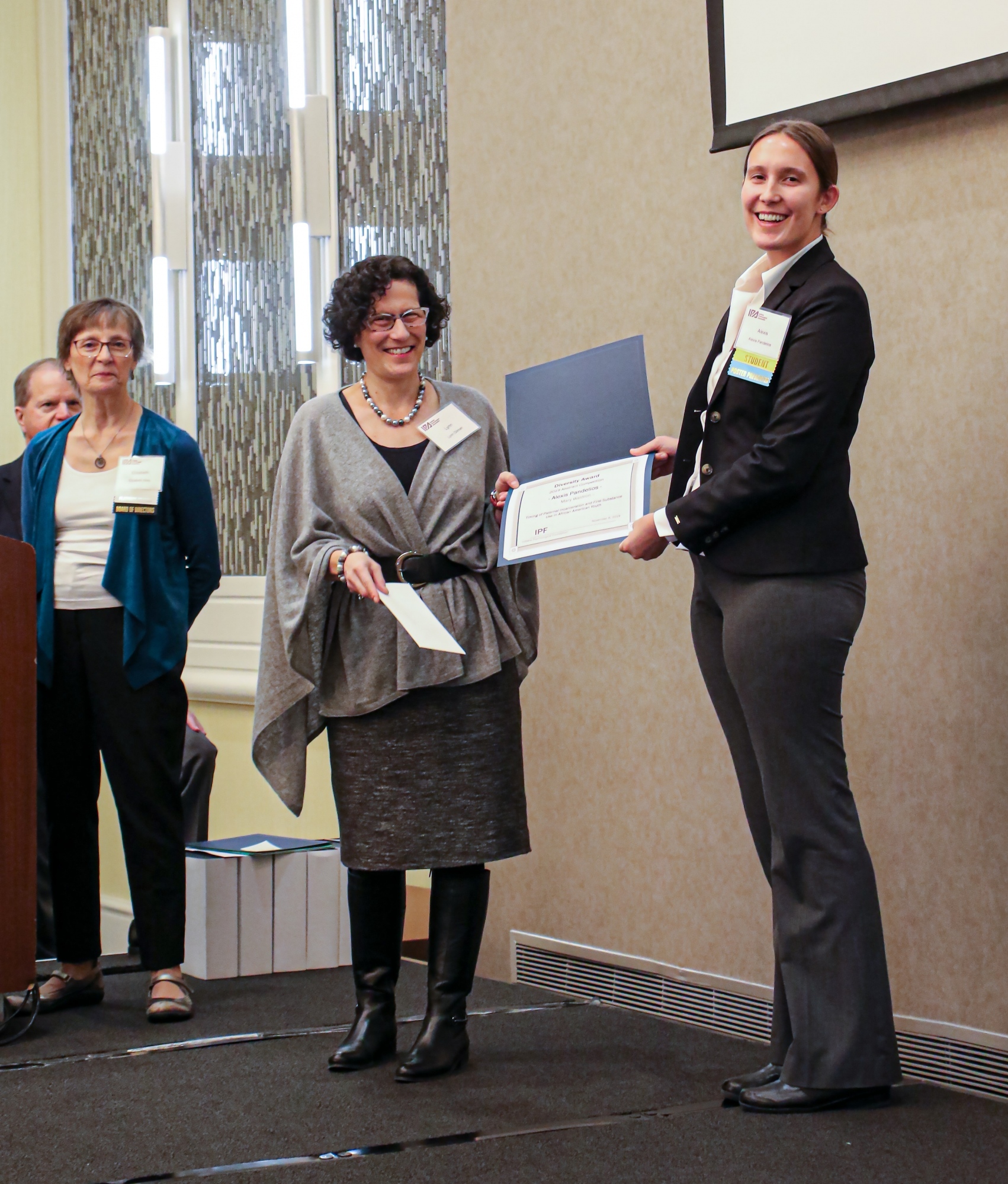 Diversity: Alexis Pandelios, Indiana University – Bloomington for "Timing of paternal incarceration and first substance use in African American youth," by Alexis Pandelios and Mary Waldron, Indiana University – Bloomington

Pictured: Executive Director Dick Rhoad, Science & Education Committee Chair Dr. Elizabeth Akey, and Alexis Pandelios